Happy Tuesday!
I'm ready to attack this work week after a fun weekend of some rain, the farmers market, watching "Dexter", catching up with my parents (who just got back from Italy!), and meeting up with my fellow Houston bloggers (more on that soon)!
Today, I'm filling in for my dear friend Bobbi, who is abundantly wonderful, over at
Today, I'm Bobbi
! She has a very special guest visiting her (read: dreamy English boyfriend), so she's letting me
take over her blog world
share my thoughts about a past passion (as in a skill, not a juicy affair -- sorry to disappoint, naughty friends!) and how it fits into my life now.
SIDE NOTE: Can I tell you something funny? I thought my guest post was going live yesterday! Oops! Wrong-o! -- which is why I was post-less yesterday. I guess I better start confirming things like this the day before to make sure I know what I'm doing. #bloggerfail
Hop on over to
Bobbi's blog
with me!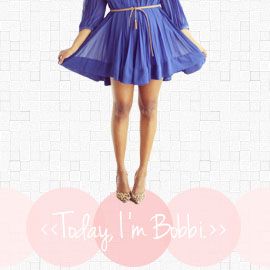 Comments are disabled for the day, so feel free to leave some love on Bobbi's blog. :-)